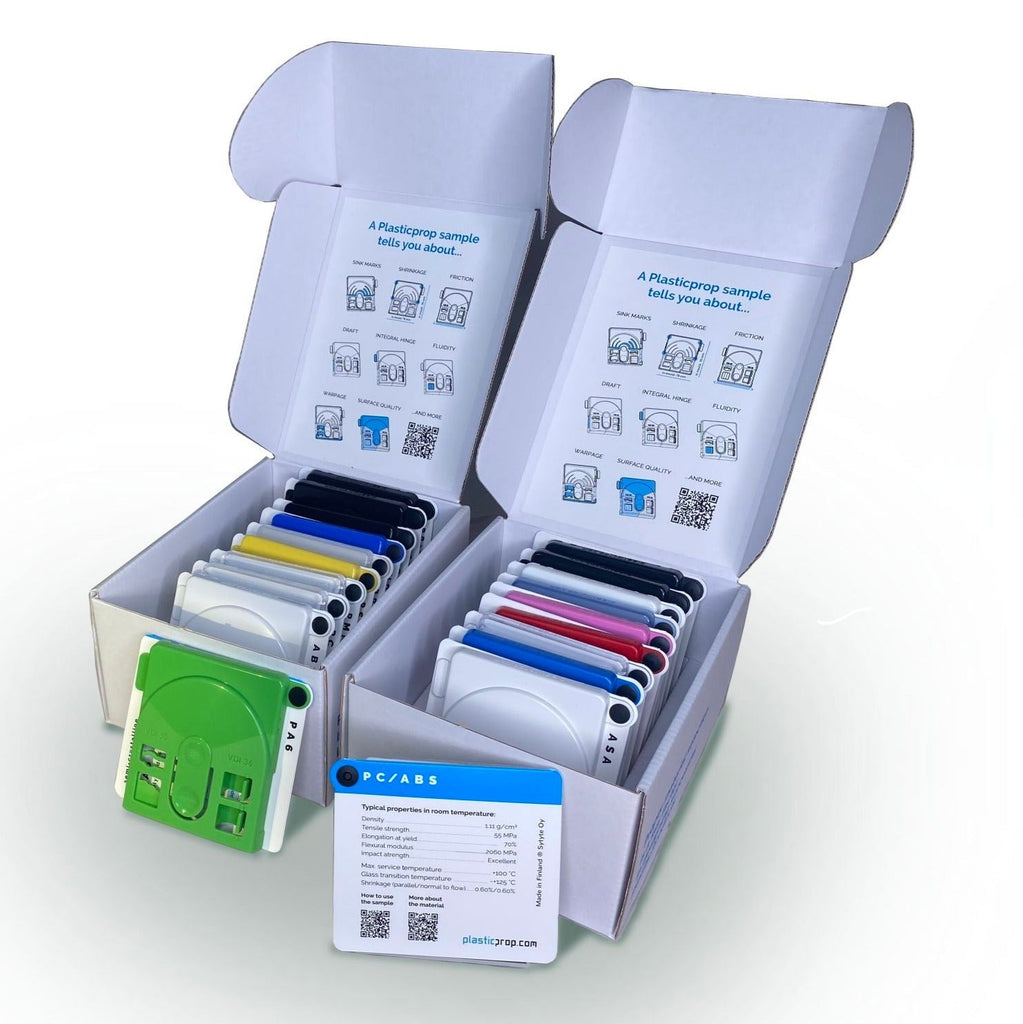 PlasticProp - Plastic Materials Sample Set
Plastic material sample set with samples of 20 commonly used plastics. The moulded bricks has many features to help illustrate the difference in properties.
The sample set is a good reference when selecting plastics and it is also a great tool to illustrate and communicate properties to non-experts. It is often used by educators at schools and universities to give students a hands-on feel of the plastics.
This video shows the different features of the moulded samples.
Each sample has an attached information card. Besides basic information about the material the card also includes a QR code which you can scan to access more information about the material.
The moulded samples measure 85 mm x 75 mm. 
The set includes samples of: 
Material
Manufacturer and grade 
1. POM - Polyoxymethylene
Ticona - Hostaform C13021
2. PA6 - Polyamide 6
EMS - Grilon BS
3. PBT - 

Polybutylene terephthalate

Dupont - Crastin S600 WTB-581
4. ABS - Acrylonitrile butadiene styrene
Perrite - Ronfalin FG 50
5. 

PC/ABS - Polycarbonate/Acrylonitrile butadiene styrene bland  

LG - Lupoy Hi-5002 A
6. 

PS - Polystyrene

Styrolution - PS Styrolution 124L

7. 

PMMA - Poly(methyl methacrylate)

LG - LG IG 840

8. 

PC - Polycarbonate

Samsung Chemical - Infino SC-1100UR UV/V2

9. ASA - Acrylonitrile styrene acrylate
LG - ASA LI912
10. PP - Polypropylene random copolymer
Ineos - PPR 222-CC50
11. 

HDPE -

High-density polyethylene
ExxonMobil - HMA 025
12. 

LDPE

- Low-density polyethylene

ExxonMobil - LD 650

13. PP - Homopolymer
LyondellBasell - Moplen HP501M
14. SAN - Styrene-Acrylonitrile copolymer

Eni - KOSTIL B 266

15. 

TPE-S - Styrene ethylene butylene styrene (SEBS)

Elasto - Dryflex 600900S sh90a
16. 

PP+30 GF - Polypropylene filled with 30% glass fiber

Polimarky - Reslen PPH30GF
17. 

PA66+30 GF polyamide filled with 30% glass fiber

Lati - Latamid 66 H2 G/30
18. 

PBT+30 GF - Polybutylene terephthalate filled with 30% glass fiber

Celanese - Celanex 2302 HV1/30

19. PPA+50 GF - Polyphthalamide filled with 50% glass fiber

EMS - Grivory CV-5H
20. HIPS - High Impact Polystyrene
Kumho Petrochemical - Kumho HI 425

We also stock many other plastic material samples. You can see them all here:
https://www.materialsampleshop.com/collections/polymer
New plastic material sample set 
We also stock a newly developed plastic material sample set where the materials have a reduced environmental impact. You can see the set here: 
Deduction of VAT, Purchasing Orders, and Shipping:

Please contact us at futation@futation.com if you need to order the set with a purchasing order. We can also deduct the VAT if you order as a registered business. We don't want the postal service to loose the set, so we send it as a traceable "Package < 5 kg": Please notice the higher shipping cost.  
Hello, could it be possible to order these plates in dedicated materials and colors? 20pcs of each.

It will require sourcing the plastic compound and setting up the injection moulding machine several times. I fear it will be prohibitively expensive. But please contact us at futation@futation.com so we can discuss the options.